On 25th Feb., vice secretary of municipal party committee, the mayor Sun Yong in Huizhou district and Huangshan high-tech zone to research and supervise companies with key projects to return to work and production, emphasizing the need to seriously implement the decisions of the central government, province and city , while paying special attention to the COVID-19 prevention and control work, actively pushing companies to return to work and production and construction of key projects, insisting to the priority development unswervingly, completing tasks for economic and social development target industriously.
In huizhou area, Sun Yong successively came to Huangshan Huajia surface technology co., ltd., the first phase of the modern logistics park project of Huizhou, Anhui Riji welding equipment co., ltd, and otherplaces, to know about production companies and the implementation of the project construction units and COVID-19 prevention measures,carefully ask about current situations of employees to return, COVID-19 prevention and control, production management, production capacity, the project schedule, difficulties, and so on, then, requiring companies to return production orderly on the basis of good job of control the COVID-19 and good work of COVID-19 prevention. Some relevant government sectors need to understand business requirements, take the initiative to help companies solve practical difficulties, such as labor, raw materials and other actual difficulties, to carry out the fall prevention and control measures. The government will help companies to resume production capacity and run at full capacity as soon as possible in an effort to seize back the lost time caused by the COVID-19.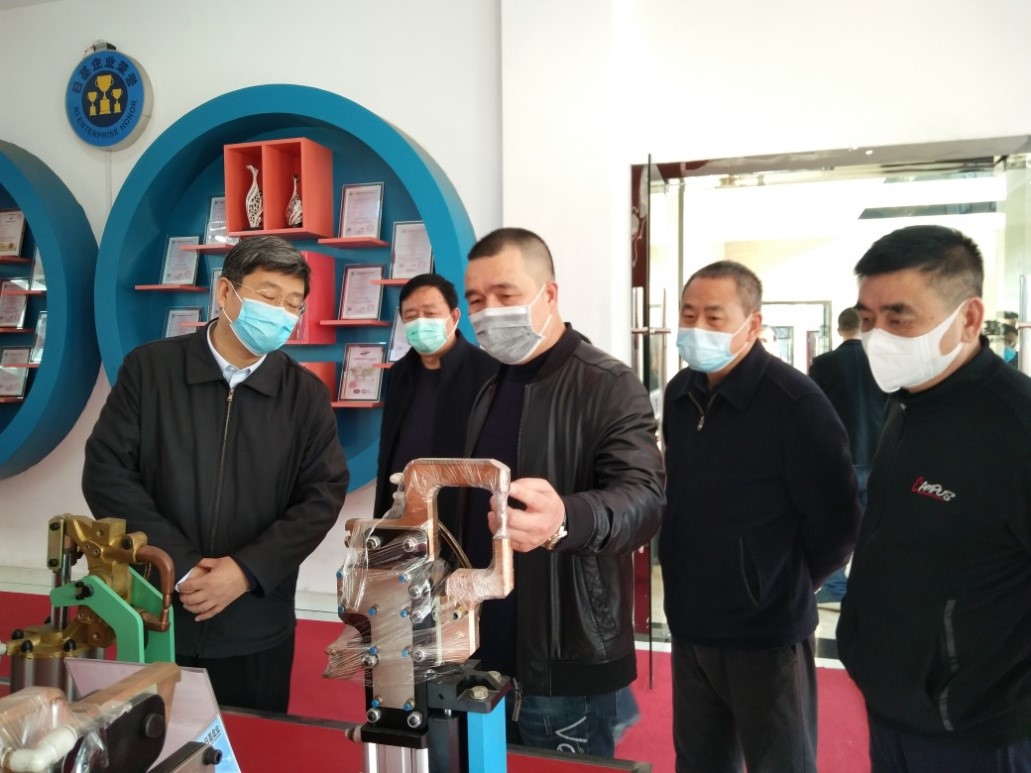 Sun yong pointed out that the COVID-19 prevention and control is related to people's life safety and health, and the resumption of work and production is related to economic and social development and people's production and life. All departments at all levels should follow the decisions and arrangements of the central government, provinces and cities,take targeted measures at different levels, and make coordinated efforts to prevent and control the epidemic and promote economic and social development.We need to strengthen our awareness of service, carefully carry out the online and offline comprehensive special actions of "four deliveries and oneservice" and the special actions of "deepening enterprise services and helping enterprises resume production and work", and fully implement the policies and measures of the central government, provinces and municipalities to support the real economy and enterprises, so as to ensure the normal operation of the whole industrial chain. We need to give full play to the enthusiasm, initiative and creativity of all sectors, make good use of continued, new and reserve projects, accelerate the cultivation of emerging industries, and vigorously develop biomedicine and intelligent manufacturing.